The best pallets from us
Our Mission
We have offered a wide variety of pallets for almost 30 years. Starting from simple pallets that were transported to local Estonian companies. To current day where we offer more a variety of pallets and ship all over the Nordics and Baltic's. We can guarantee quality productions with cost effective prices.
At first glance, pallets do not seem like a cutting-edge or innovative product group, but nowadays almost no product is delivered from manufacturer to consumer without proper packaging. This is where the 40-member Nelico family business comes to aid. We provide a variety of wood products ranging from heat-treated (HT) lumber and basic pallets to the most complex packaging solutions made of wood, plywood and metal parts. We produce up to 50,000 pieces of various wood packaging per month. Sawing, drying, plaining, nailing and transporting wood – we do it all. Also, we are open to all new offers.
Nelico History
History
Nelico, a furniture workshop originally from the minds of four men, has developed into a significant wood packaging (Pallets, saw material, plywood) manufacturer in Estonia. Now a 28-year-old family business, Nelico has entered an era of renewal – the generation that founded the company is now supporting the younger generation with its experience, while the younger generation, by using their latest knowledge and youthful energy, have turned Nelico into a modern pallet manufacturer.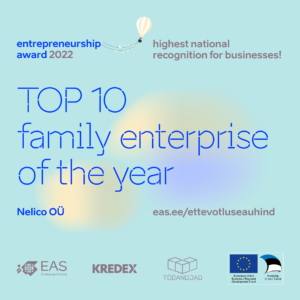 Juhtkond
Võta julgelt ühendust